Captain Ronald Karauri, CEO of Sportpesa, is ecstatic following his wife Ruth Karauri's flawless arrival at Heathrow Airport in London.
Captain Ruth Karauri successfully navigated KQ Flight 100 through a severe storm in London on Friday and landed safely.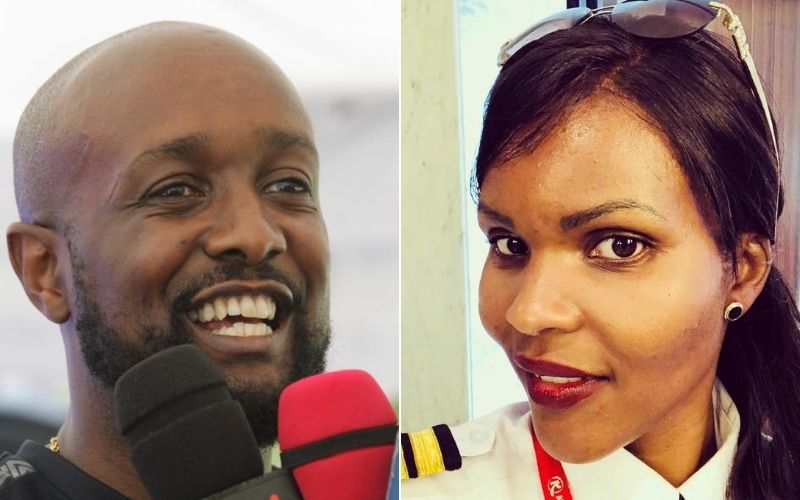 In response to Ruth's video of the rocky trip, Ronald Karauri, who is running for Kasarani MP, praised his wife. The Sportpesa CEO, who is also a certified pilot, referred to himself as the finest Captain, with his wife Ruth coming in second.
In a tweet, he said, "2nd best pilot in Kenya."
Ruth Karauri Explaining How She Landed
Ruth described the challenges she faced and how she managed to maneuver after the landing.
She went on to say that she was able to navigate the conditions in part because of the training she received from Kenya Airways.
"This is Captain Ruth Karauri of the now famous KQ100 at London Heathrow. With me is my first officer of the day, Ayoob Harunany. We had the pleasure of encountering storm Eunice at London Heathrow yesterday (Friday, February 18). We were landing on the Westerly Runway into Heathrow.
"The flight conditions were strong gusting winds and it was quite a bumpy ride. However, thanks to the training we have had at Kenya Airways, particularly in the simulator, it prepared us for such a scenario. We used all our training expertise and skills that we have managed to learn over the years at Kenya Airways and we handled the learning expertly. It was a pleasure flying all our amazing passengers into London Heathrow yesterday," she explained.