Born in 1966 to a tough mother, Kigame suddenly lost his sight aged three. One day, while sitting at dinner table, he reached out for a plate and couldn't see a thing.
"We were having dinner at home when I reached out for the plate of ugali and missed. This came as a surprise for, not only me but my family as well. My mother got curious and tried to establish what was wrong. This was the moment I realised I could not see. I was still a young boy," says Reuben Kigame.
He had cataracts in both his eyes and due to poor medical services at his home in Bunyore, and having grown up in poverty, the condition was detected when it was already too late.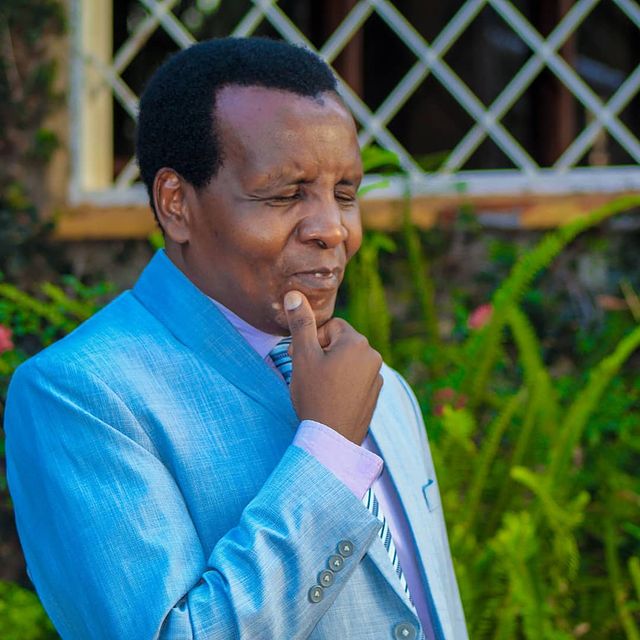 "I remember colours, especially of the leafy greenery all around me, the dark-brown pathways that my siblings and childhood friends regularly walked; the black hairs all around, the orange of dawn and sunset, the brightness of lightning, the white-cream of different fishes in the plastic bowls, etc. I remember the different shades of faces and arms of the people I met, from dark to chocolate to light-skinned."
His story is one of overcoming one obstacle after another. The man whose music has cut across ages and touched the lives of many Kenyans has had a long winding journey, and his first song was against the Gospel, angry with God for dealing him a bad hand.
He says: "A lot of things changed for me. I started questioning God and saw Him as very evil. I even sang about how bad He was. This was before I got saved."
"Disconnecting from the familiarity I was used to at home was tough when I went to school. Getting away from my mother's cooking, my play culture and the environment I was used to was hard, but school and I became the best of friends after a short while," he says.
Kigame joined Kibos School for the Blind and later Thika School for the Blind. He went on to study at Kenyatta University where he graduated with a degree in History, Philosophy and Religious studies. He met his first wife, the late Mercy there. After getting his degree, he joined Moi University for a Master's degree in Journalism and Media studies and also trained in Christian Apologetics at the Southern Evangelical Seminary in Charlotte, North Carolina.
"School exposed me to a lot of new things and a different outlook on life. I was removed from my village mono-cultural world to a boarding school, which had students from all over East Africa and, certainly, different communities from Kenya. I developed a love for languages and the thirst of my inquisitive mind was sufficiently quenched by different subjects, but especially science and the arts.
"Along the way, I was introduced to the choir and I came to really love music. I started playing in a small boys' band in primary school and joined a more elaborate one in high school. Music became a part of me and I enjoyed it as much as I did the academic subjects. It soon took over the place of sports.
"University changed my world. It brought me where my mind longed to be. I wanted to dwell in and excavate the world of knowledge. I learned to read and write in Braille and when I was 14, I was introduced to the most revolutionary skill in my entire education: I learned how to type. This helped me, especially at the university, because I could type my assignments for my lecturers and therefore compete equitably with other students; sometimes my scripts were so clean that fellow students thought the teachers were favouring me because of my handicap. Even today, I am able to study on my own because of the ability to use a computer."
After graduating from Kenyatta University, he married his college sweetheart Mercy in 1991. He says they had met in school where she was one year behind him. "She needed some information about a youth camp that I frequently taught and led music at and a friend of hers told her they could come to see me in order to find out about it and if she could volunteer there during her long holiday," Kigame says.
"I liked her demeanour from the time she walked in. I was just emerging from heartbreak when her charm came knocking."
She soon volunteered in helping him, especially with reading printed books. Kigame says he could type quite well but most of the books he needed to read were not in Braille: "She really helped me accomplish most of my reading and, soon we found ourselves in a deep, committed and beautiful courtship that then led to marriage and later three beautiful daughters."
He adds: "She was such a sweet soul, a committed Christian, with character traits that were irresistible. Most of all, she did not hide the fact that she loved me and found me her best friend. Although she was a quiet girl, she had this perpetual smile that I could literally touch. She was happy and contented to be around and with me and so was I."
He shares a close bond with his children and says that the biggest lesson he would pass on to them is one of love.
"The biggest life lessons I would pass down to them are to Love God and love neighbour as yourself. If you cannot listen to others, don't open your mouth to talk to them. Hard work pays handsomely and gives you the best sleep. Learn to love, apologise and say 'thank you.' There is never any justification whatsoever for being unkind to anybody, no matter what. Face life with courage. Live your life asking yourself daily what you want to be remembered for.
"We have always been around each other and I have never felt blind or blinded by them. I do not guess they love, appreciate and accept me the way I am. To them I am their father, and that without pleading."
Loss and remarrying
The Kigame family was to hit by tragedy on September 5, 2006, when his wife Mercy passed away in a road accident. He says he lost a big piece of him and feels the pangs to date.
"Nobody who experiences true love can ever get over the loss of their best friend. You move on because time keeps ticking, but it is a disastrous interruption of life. Nevertheless, I have been able to move on because of the resurrection hope, the love and support of my children and the support of Julie, my current wife."
He compares the year between losing her and remarriage to hell on earth. "I had three main challenges. First, taking care of the three children I was left with besides trying to make ends meet by working and being active in the ministry was very hard. People promised to help but after a week or two, I realised I was on my own."
"My 12 and 14-year-olds helped me a great deal especially to take care of the house, do some cooking here and there and to take care of their little sister who was two years old then. The second challenge was grief. At first, I acted strong but then it swept me slowly down. I have never cried as I did at that time. I lost my best friend and confidante. The third challenge was all the women who wanted to be my next wife."
He says women out to attract his attention hounded him like beasts of prey, some with potentially good reasons and others for sinister and malicious reasons: "Some bought gifts for me and my children to lure me into paying attention. A couple tricked me into visiting only to realise they wanted to sleep with me. Some would sneak into my house when I was not there and pretend to help the children or me."
One even threatened him on the phone saying; "You can avoid me and keep running away but I will get you!"
Kigame says one of the reasons he remarried quickly after- he knew the children liked Julie and she liked them- was to end the madness. "If it was not for the support of my family, I would not have pulled through," he says.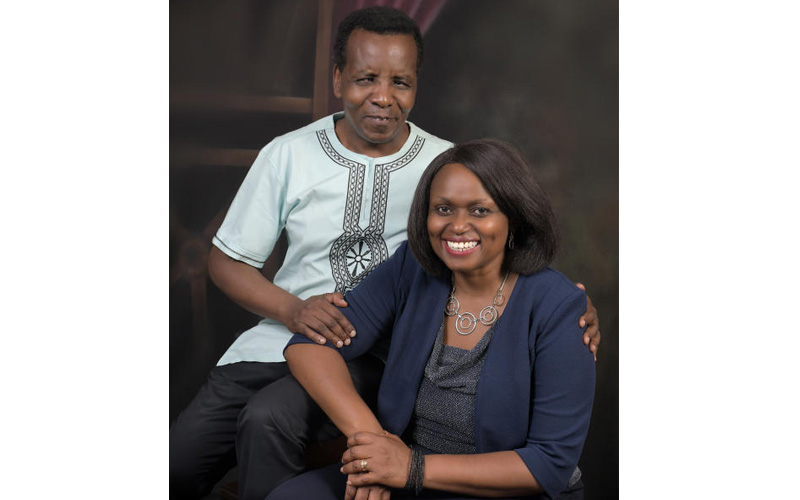 On finding love again
Kigame says finding love again was tortuous but rewarding in the end. He says his wife Julie is an enigma of quiet affection, loyalty, support and charm. "She is the calmest in our family and likes to be low-key. She is a very talented singer and song-writer but does not like the limelight. She accepted to live with a deeply wounded man and took it in stride. She has been there for all of us."
He says he once asked his older children who they might want to have as a mother if they were to have one again. "They thought for about a day and then came back to me with the answer: Julie. We had all liked Julie as a family friend and member of my ministry board but never in the slightest had we ever imagined she or any other person would become part of our family in that capacity."
Julie had sung with Sifa Voices and been involved in many family functions and so they had a fair idea of who she was. For the children, he says, one of the things that attracted them to her was her willingness to help, driving them to the hospital when they would go to Nairobi (Shema, the youngest at that time, was undergoing treatment that was not available in Eldoret where they lived).
"The fact that she was willing to leave her job with the European Union and come to take care of the children was particularly moving for me. Her deep faith was my main attraction to her," he says.
Musical journey
The artiste started singing at a young age at the family table just before going to bed, in Sunday school and primary school. He says he was about seven years old when he discovered his love for singing. But even then, when he went into music, it was not success at the first step.
"The first song I wrote was not a good song and neither were the ones that followed shortly after. I was not saved when I began to write and sing. My first complete and formidable song was against God. I blamed Him in the song for being the source of all evil after losing my sight. It was not a good one," he says, looking back.
Then in the 1980s, he gave his life to Christ. "That is when I started making gospel music. I recorded my first album What A Mighty God in 1987 and I recently released my 29th album together with Sifa Voices Lipo Tumaini on December 1, 2019."
It has not always been smooth sailing even in the midst of wild success on the gospel music front.
He says that in 2,000, shortly after releasing the album Come with Me, he sank into a bad bout of "depressive meaninglessness".
"Strangely, around this time I wrote new songs ferociously, partly as if to do one last thing musically and then quit the ministry and again as a way of belching out what was going on inside me."
He found himself again one morning in South C where his family lived at the time. "In desperation, I found myself welling over Exodus 33. I found the desire to try one more time and just cried out to God for His presence. That encounter became the birth stool for the song Enda Nasi, which I have recently translated into English under the title, Go With Us," he says.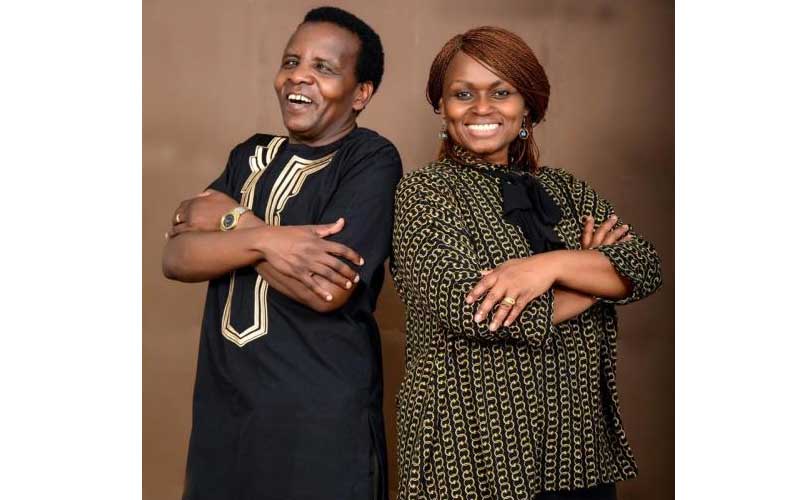 If I could see again
"I would love to see the night sky and the shine of the stars, the trees and flowers, the sea, rivers, mountains, sunrise, sunset, nature!
"I dream of a better world. This one is messed up. I am doing my best to change Africa in particular for posterity through my music, books and social media posts. The problem is very few are listening to me. The world is ugly. I want a more beautiful one – fertile, green, clean, organised, free from poverty, hunger and disease, where people come first, and not things that come and go."
Source: The Standard