Deputy President William Ruto has responded to President Uhuru Kenyatta over his claims that he is an absentee deputy.
Uhuru had slammed his deputy, saying work is done in offices and not in political rallies on top of cars.
But speaking in Kakamega on Tuesday, Ruto said theories should also be implemented.
"You make theories in offices and you implement the plan sometimes on top of cars," he said as the crowd cheered.
"I have been in government long enough to understand that policies and theoretical works are done in offices but implemented on the ground that sometimes entails doing so from the car tops."
Ruto also dared Uhuru for a tough battle ahead of the August 9 elections.
He said that without him, the Jubilee government would not have materialised.
He said he is well prepared to face the President who on Monday announced that he will be making entry into politics now that he has delivered on his manifesto.
"They are obsessed with managing their succession but I want to tell them that we are ready for that contest my friends, bring it on. Tuko tayari kabisa," Ruto said.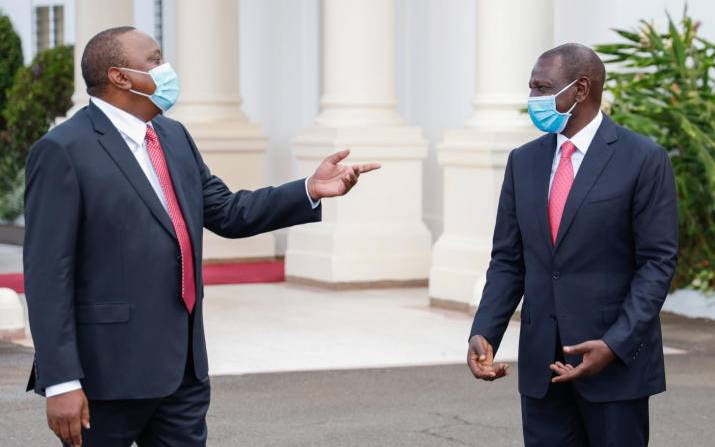 He defended his track record in government, saying that he took part in each and every project that became a success in the Jubilee administration.
"Jubilee government was a joint project between me and my friend President Uhuru Kenyatta," Ruto said.
"You cannot deny me as deputy president the credit for many projects that we have achieved together. It is not going to happen my friends. Anybody imagining that they can deny me credit is wasting their time."
On Monday, President Uhuru accused some politicians of continuously faulting his administration over performance.
The Head of State said Kenya had made strides in the deliverance of key government promises, including quality health care services to its citizens.
"Kazi tunafanya. Kazi haifanywi juu ya magari, inafanywa ofisini," said Uhuru.
Loosely translated, "We are working. Work is not done in political rallies. It is done in offices."