You know him as one of the sought-after lawyers and governance experts who grace your TV for political shows.
However, lawyer Steve Ogolla's story of grass to grace is one of resilience and hard work until he got to the peak of his profession.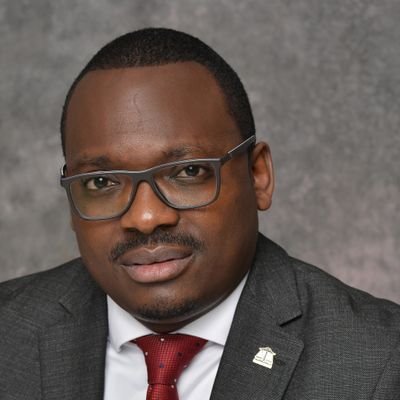 He sat down with us for an interview at the Kempinski Hotel, which is a stark contrast to where he grew up in abject poverty.
"The Steve Ogolla people see in the media is not the same one people have grown up knowing. You don't just emerge from nowhere, you work hard to get where you are," Ogolla said.
Born in Ugenya, Siaya county, Ogolla grew up in a polygamous family, with his mother being the first wife. He had two step mums and has 18 siblings.
Ogolla describes his upbringing as desolate, saying they could not even afford a meal most times and poverty led to his siblings dropping out of school in primary school to do menial jobs.
"When I see a mother in Mombasa boiling stones, I can relate because my mother would sometimes buy sugarcane, which she gave us to chew for dinner. It was a very desperate life," the lawyer says.
Since his mother did not go to school and also his elder siblings, Ogolla as a second-last born did not have anyone to inspire him growing up because even his siblings had dropped out of primary school.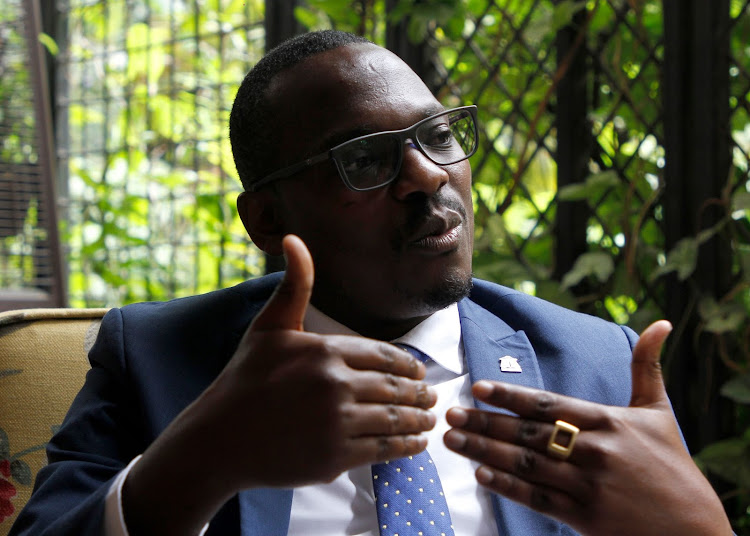 However, through his determination and hard work, he was the first and only person in his family to break that cycle by completing primary education transition to high school and proceeding to university.
Ogolla, a born-again Christian, says his education journey was full of struggles. He sat the KSCE exam three times, was a hawker in Kisumu and Nairobi, and at one time sold chicken in campus.
ACADEMIC BACKGROUND
A head boy in primary school, Ogolla was also a top student. He sat his KCPE exam in 1997 and passed.
He was admitted to St Mary's School Yala but because his family could not afford fees, his primary school teachers, who had seen his potential, paid his form one fees.
"I was in Yala in 1998 and the next year, I didn't go back for lack of school fees. I stayed in Kibera with my elder brother," he says.
Even though he missed school that whole year, he would borrow notes from his friends in high school.
In 2000, with the help of his former primary school teachers, he enrolled at a day school in Ugenya in Form 3 and sat the KCSE exam in 2001, scoring a B-.
He had hoped for a B plain to be able to join university, but since he could not afford a private university, he spent 2002 doing odd jobs in Kisumu.
The next year, he moved to Nairobi and got a job that involved hawking merchandise like calculators and organisers in offices within the CBD.
"I would walk from Kayole to the City Centre, all the way to Riverside Drive through the UoN to pick the merchandise that I would hawk," Ogolla says.
In the course of that year, he met a friend who advised him to register for his exams so he could hawk during the day and read at night for the exams.
For his second attempt, he enrolled at a school in Siaya. He continued hawking in Nairobi and in November that year, he sat the exams.
When the results were out, he scored a B plain, missing the university entry mark for regular students by one point.
Feeling frustrated, he went to Mombasa and got different odd jobs, which included offloading ships at the port and selling fruit salad.
In December 2004, he decided to move back to Ugenya with a view of opening a kinyozi and video shop because he felt frustrated by city life and wanted a quiet, simple life in the village.
TURNING POINT
However, Ogolla never got to open the business as he had planned because while in the village, he reconnected with some of his former schoolmates, who were then at the university.
The boys who were on holiday were telling their experiences in campus and he realised he was being left behind by his peers in a way he could never recover.
"At that time I knew I had to do something about my plight; otherwise, my friends would come to find me in the village 10 years later and wait to shave in my kinyozi," he said.
That's when he made a decision to go back to school for what he considered to be the final attempt to join university.
He managed to secure admission at Ambira Boys' High School, even though the principal, Omondi Wanga, was so apprehensive that he may not be able to cope with coming back to school four years later.
In his first exams at the school, he scored a C-, mainly because "I had stayed out of school for so long, I had forgotten the entire syllabus".
However, later that year when he sat his KCSE exams in 2005, he scored an A, thereby getting admission to university.
"Some people think I passed exams because I repeated three times, but that's not the case. I had to put in a lot of effort. I remember I would read up to 1am and be up by 5am for the normal school routine," he says.
He joined Moi University in 2007 as a law student and to be able to survive because the Helb loan was not enough, he would sell kienyeji chicken to students and some of his lecturers to supplement his stipend.
"Professors Tom Ojienda and Mutakha Kangu really helped me when I was at the university and I owe them a lot," he adds.
Even after he finished his law degree, he was unable to join the Kenya School of Law for of lack of school fees.
He could not afford the Sh190,000 fees required to join KSL, so he got some volunteering work at a Community Based Organisation in Gikomba.
Sometime in February 2012, he received a phone call from the LSK that would change his life. LSK informed him he was one of the two candidates selected to receive the Kenya School of Law LSK scholarship.
He was excited but life was really hard at that time. He could not even afford fare to go to Karen for the classes with the small money he made from different jobs.
"Most of my colleagues don't know but I would walk from Nairobi West all the way to Karen for like a month after I joined KSL," he says.
Ogolla, who has a Masters in Governance, has practiced law for six years, but even with all his achievements, he says he is yet to achieve anything.
However, he feels grateful that education has enabled him to put up a decent house for his mother and has several other identical houses he is building for himself and his brothers.
"We lived in grass-thatched houses but now each and every member of my family has a decent house," he says.
Ogolla, who still drives the same car since 2015 and lives in the same house, says all the money he gets is used to empower his family members.
The lawyer is a book enthusiast who at one time used Sh1.2 million to buy books for a case he was handling. He says to be a top lawyer, you must read widely.
"The practice of law is a disciplined profession, there is no replacement for the written word. You must read and there is no shortcut," he says.
He also reads a lot of judgments by different courts and on average, he reads 10 judgments per week, statute, articles and book chapters.
Asked whether he would consider joining the bench, Ogolla says he would not aim to be a judge but in future, if that opportunity emerged, he would not be surprised if he took it up.
Some of high-profile cases he has handled include Governor Julius Malombe's election at the Court of Appeal.
He also represented the LSK in several complex constitutional petitions, including the case where LSK was seeking to compel the President to appoint 41 judges.
One other case is the two-thirds gender rule, which is now triggering dissolution of Parliament. He is part of the legal team.
CORONA EFFECT
Ogolla's firm Silas Evans Stevens and Co advocates has not escaped the wrath of the Covid-19 pandemic.
He says when they merged the law firms this year, there was no work because of the uncertainty brought about by the pandemic.
Ogolla draws his greatest inspiration from his mother, whom he talks to every day and updates her on what he does.
In his free time, you will find him listening to loud gospel music in his parking because he considers his house a reading space. He also takes long drives to reflect on the goodness of the Lord.
Ogolla is unmarried but has two beautiful daughters from a previous relationship.
The lawyer's advice to the youth is there is no replacement for hard work, discipline and industry.
"I am against rushed success. What I see with the youth is trying to project the impression you are rich while you are not. Don't be under pressure to show or prove you are successful. Success is not always measured in monetary terms," he says.