At least six people have been confirmed dead after allegedly consuming an illicit brew in Njawavi village in Njoro Sub County, Nakuru.
The group of six are said to have taken the drink on Saturday, December 4, and began feeling sickly the following day.
According to close relatives of deceased, their kins began experiencing complications after they had consumed the illicit brew.
Harriet Ayuma told Citizen TV that her brother Job Amati had a severe stomachache and heart problems a day after he had consumed the liquor.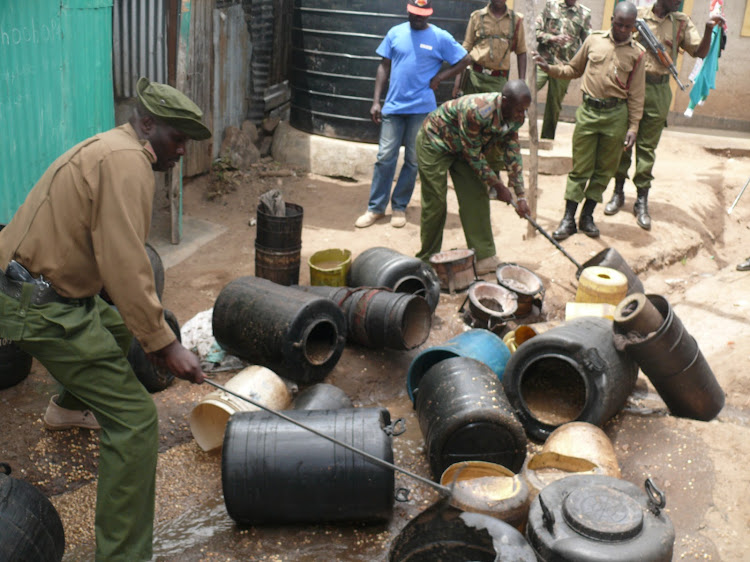 According to her, a neighbour who had also taken the liquor has been reported dead.
"I went to where he lives and I was told that he had been rushed to a dispensary where I found him dead. I was told she had consumed alcohol after which she started experiencing stomachache and heart problems. On arrival back home, I heard that my neighbour who had allegedly taken the same liquor had also died," Ayuma said.
Another resident identified as David Njuguna, whose uncle is said to have died after taking the illicit liquor, told the media that the uncle began by complaining about losing sight.
"He complained about his eyes that he was not able to see after which he developed a stomachache and died while being rushed to hospital," he said.
The resident pointed a blaming finger at the police accusing them of taking no action to address the situation.
According to them, police have developed a habit of taking bribes from brewers leaving residents in trouble.
"Illicit brew has become a serious problem in this village. I know of 7 people who have died due to the illicit brew. The Government is not taking any action because the illicit brewers are still operating. We believe they are bribing the police," Peris Maloba, a resident, said.
Njoro Sub County police commander Joseph Kisaka has however denied receiving reports of deaths caused by illicit brew.