Last Moments of Another Woman Brutally Murdered in Nakuru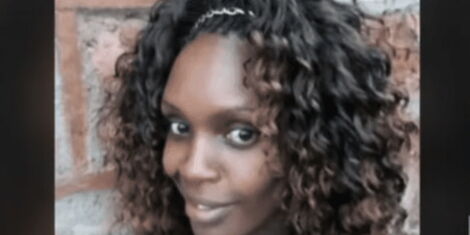 Faith Wangu's mutilated body was discovered dumped in a thicket at the Menengai Crater area, Nakuru on Saturday, November 16. Her left arm and left breast were chopped off. Her face was doused in what is believed to be acid.

Joseph Mwangi, the victim's brother, told Citizen TV that John Muchiri had repeatedly abused his sister over the past 6 years until she finally decided to leave Muchiri in late 2018.

"Their marriage has not been straight for long, the guy was a threat. For the last six years that they have been together, the marriage was hell. Once when she gave birth and the child was two weeks old, he beat her up badly," the distraught brother narrated.

25-year old Faith Wangui
​​​​​​

Bahati police commander Jacinta Wangechi told the standard that the body was discovered by a group of herders grazing their livestock around the crime scene on Saturday.

According to a report by Citizen TV on Sunday night, Faith left Muranga to take her two young daughters to visit their aunt who lives in Nakuru. The kids were going to stay with the aunt for the December holidays.

She was supposed to drop the children off on Saturday, November 9, and return home the next day.

However, she changed plans at the last minute and decided to visit her estranged husband, Joseph Muchiri, who also lives in Nakuru in an attempt to solve their marital problems.

"On that Sunday at around 10 pm, Faith texted me, telling me that they are going to a rock-in club called Menegai Resort" the sister narrated to Citizen TV. The family was alarmed when her phone was suddenly switched off.

The report indicated that she informed a childhood friend of the plan to meet her lover at a popular entertainment joint in Nakuru Town once here two children aged 2 and 6 were safe with their aunt.

Police in Nakuru immediately launched a manhunt for Muchiri, the estranged lover, said to be on the run.

Her death comes in the wake of the brutal murder of Joyce Symobua and her two children allegedly committed by a Kenya Defence Forces Major identified as Peter Mugure based at the Nanyuki army barracks.

Bodies of the three were found buried in a shallow grave within Thingithu Estate in Nanyuki, after the arrest of Major Peter Mugure on Saturday, November 16.

Wangui is left two kids aged 2 and 6​.